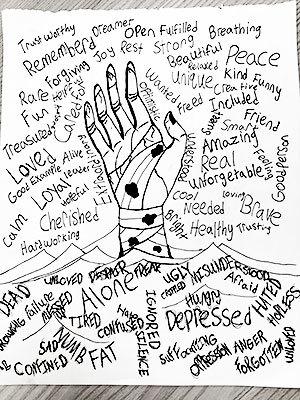 A study called "The Influence of Art Making on Anxiety: A Pilot Study" suggests that a little time working on art can significantly reduce a person's state of anxiety and indicates that art allows people to forget about their condition for a while, allowing them to focus on the positive things in their life.
Singing lowers cortisol and relieves stress and tension. Studies have shown that when people sing, endorphins and oxytocin are released by the brain which in turn lowers stress and anxiety levels. Oxytocin (a natural hormone produced in the hypothalamus) also enhances feelings of trust and bonding which also explains the reports that singing also improves depression and feelings of loneliness.
Singing boosts confidence. The release of endorphins gives singers a positive feeling and an energy boost. The act of learning a new skill, improving and being part of a group also helps to influence your confidence and self-esteem.
Singing is a mindful activity. So much is going on in your body and mind when you sing that when you are singing you are fully focused on it. This allows you to 'turn off' your stream of consciousness and live completely in the moment, distracting your mind from negative thoughts, focusing on the sound, the action, the breathing, the feeling and the pleasure of song. Mindfulness has been shown to have many benefits, including reducing stress and increasing focus.
Call Reach Out at 385-241-4119 or connect with us online to learn more about connecting with the arts! We look forward to connecting with you!